Boston is one of my favorite foodie cities!! There are so many amazing spots that you must check out, and always coming up with new ones! Here is a list of my favorite spots to check out, and I will make sure to keep updating this page (like all of my City Guides!).
Lunch/Dinner:
Empire – My ALL TIME FAVORITE restaurant in Boston. Amazing Asian cuisine with an incredible vibe. I have had only wonderful experiences at Empire, and all of the Big Night Entertainment venues. This is the sister restaurant to Red Lantern (which is another good spot, although I prefer Empire because of the location in the Seaport) The Seaport is a really trendy, innovative neighborhood, and make your way over there when you are in Boston! Empire boasts a wonderful menu and my favorite dishes are the Singapore Street Noodles, Two Way Rangoons, and the Spicy Salmon Bites. Also, don't leave without trying the Pineapple Mai Tai or the Scorpion Bowl! Make sure you ask for Kaelan or Tyler and tell them the fan club sent you! PS: Empire is only open for dinner. 
Scampo – Located in the Liberty Hotel at the end of Charles Street, Scampo is another top hot spot for me. I discovered it about 5 years ago, and fell in love. Lydia Shire is a culinary genius, and their Clam & Bacon pizza makes me so happy! I love the different flavors that are fuzed with the traditional Italian fare.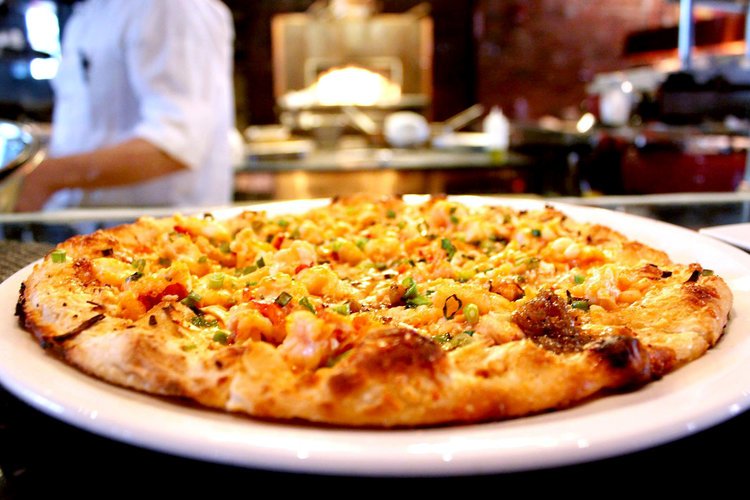 Clink – Also in the Liberty Hotel, Clink has my favorite cheese plate (shoutout to Katie for telling me about the epic CP). The 6 cheeses come with 6 incredible jams, and the rest is history. I could have it any day of the week, and I just love the atmosphere in the Liberty Hotel particularly on Friday & Saturday night!
Bricco – My go-to spot in the North End! There is a plethora of restaurants in that neighborhood, but Bricco holds my heart. I have tried several really good places in the North End, but the cozy atmosphere makes the difference to me. The menu is on the more sophisticated side, and I really enjoy all of my meals there!
Scorpion Bar – The nachos are absolutely insane at Scorpion Bar! Another fantastic addition to the Big Night Entertainment Group, Scorpion Bar adds a bit of spice to the Seaport in Boston! If you are prepared for a fun night out, stop into Scorpion for some yummy Mexican food & margaritas, and then head upstairs to The Grand (Best Nightclub in Boston)!
Mistral – This was one of my first finds in Boston, and still dream about their clam pasta! A beautiful dining room located in the Back Bay of Boston, Mistral has an excellent menu for dinner and brunch! A special occasion is worth celebrating there, and it's also a great date night spot. 
Shojo – I usually don't hang out in Chinatown, but I will definitely make a trip to Shojo! I am basically the Queen of Chicken & Waffles, and their Hong Kong waffle topped with crispy chicken gives me life! They also have some amazing dessert! They switch it up all the time, but their cakes are super fresh and moist! 
Del Frisco's Double Eagle Steakhouse – In my personal opinion, Del Frisco's is the OG of restaurants for me in Boston. One of the first wonderful places I have been to in Boston, and I also love the waterfront view. I recently dined there, and Matt and Chelsie took such good care of us. A wonderful steakhouse with the best Lobster Mac & Cheese, and the Cheesesteak eggs rolls are also on point! A must do if you are in the mood for an opulent and filling meal! 
Ocean Prime – Luckily I have access to one in Boston and Naples! The food is delicious and I love going there for lunch. The Crabcake Melt is wonderful, and they have the best Peanut Butter Pie (that says A LOT because I don't really like PB, but it's amazing). The sushi is delicious, service is on point, and their cocktail list is lovely (My fav is the Berries N' Bubbles)! 
Eataly – So excited that Eataly is in Boston! I am a big lover of Italian food, and could spend the rest of my life in Italy. I would go any day any time! The array of Italian products is incredible, and I could go there every day! The fresh pasta to the prosciutto and fresh mozzarella – my heart is in Eataly!
Brunch: 
Tremont 647 – This is my FAVORITE brunch spot in Boston! Their Chicken & Biscuits Eggs Benedict is incredible, and their French Toast sticks are so popular among my group of friends. Cute spot in the middle of the South End, Tremont 647 is delicious for brunch or dinner, but I typically go for brunch. A must try while in Boston! 
Cafeteria – On Newbury Street, Cafeteria has the best truffle fries in Boston! Their whole menu has something for everyone, so it is a great spot to go in groups, and when the weather is nice the outdoor patio is gorgeous! An amazing people watching spot on Newbury, and also dangerous because you are surrounded by all of the best shops! 
Committee – The same group as Cafeteria, Committee is my favorite Greek restaurant in Boston! The food is super flavorful, fun to share, and I like sitting at the bar! The brunch is delicious, and I am looking forward to go back and trying the dinner! When you go, try the Frappe and share a Shakshuka with your bestie! *Thank you to one of my VIP Fans, Gerry, for convincing me to go! 
Explorateur – Recently opened by Big Night Entertainment, Explorateur is just lovely! You truly feel like you are transported out of Boston, and the Frites Mornay are just divine. The donuts & beignets are also served warm, and please don't leave without trying them. You can walk off the calories in Boston Common after your wonderful brunch at the Explorateur. 
South End Buttery – South End Buttery has a great variety of delicious brunch items, and I adore the surrounding brownstones! I love their burgers as well as their sweet treats! If you are looking for low key comfort check this place out! 
Flour – The whole menu at Flour is fantastic – from the BLT to the Smoked Turkey sandwich, and the coffee, oh my!  There are three locations in Boston (Back Bay, Harvard Square, and Kendall/MIT), and they are all worth trying! I also love that they serve half sandwiches when you just want something light! 
Vicki Lee's – I had to include this in my Boston list, although located in Belmont, it is worth the 20 minute drive! Vicki Lee's is always delicious, and I have a great meal every time. The food is so fresh, and the service is humble and quaint. I always love a good female entrepreneur, and their cookies are my favorite in New England!